Cover Photo Credit: Salt Lake Tribune
What would you do if you were gifted $53 million? Buy a nice house, buy some expensive sports merchandise, get a lifetime supply of Oreos and milk?
What would you do if you were gifted with a $53 million dollar stadium? Recently, Rio Tinto Stadium in Sandy, UT is valued at that price in the package for someone to purchase Major League Soccer's Real Salt Lake. With such a high price tag for its great amenities, location, and storied franchise, Rio Tinto is one of the highest valued stadiums in Utah.
As part of my four-part Utah stadium journey, I will be grading five more sports venues around South Salt Lake County to Orem including Rio Tinto.
To refresh you on my grading criteria, I am giving each venue an A-F grade based on the criteria below.
Architecture

Historical Relevance

Events Stadium Holds or Held

Accessibility

Atmosphere
To keep our list focused, I only considered stadiums that primarily use the facility for sporting events and have 2,000+ seating capacities. I will only be choosing one stadium/arena from each major college as well. I know some colleges have multiple wonderful venues, but this will limit me to highlight my favorite one. I will also not be including any high school stadiums.
Stadiums are ordered based on their north-south location. Without delay, let's dive into our journey starting with one of Utah's great Olympic venues.
Olympic Oval (Kearns, UT)
Photo Credit (Trent Photo)
Overview: The Olympic Oval was opened in 2001 in preparation for the 2002 Winter Games in Salt Lake City. With a seating capacity of 3,000, the Oval is world-renowned and is headquarters for the US Olympic Speed Skating Team. The Oval is also home to North Utah Grizzlies special needs hockey team.

What I Like
Olympic Significance: Besides it being a new venue for the games, the Oval hosted all ten 2002 speed skating events which set 10 Olympic records. The track also hosts 11 speed skating world records. Because of these great awards, the Oval is rivals with Calgary's Olympic Oval for holding the honor of the "Fastest Ice on Earth." Competing for the world's fastest ice is a remarkable feat that impresses me about this underrated Olympic gem. No wonder the US Speed Skating Team made it their permanent headquarters.
Indoor Amenities: While the ice is phenomenal, the Oval also has fantastic indoor track capabilities. In the building, a marked Mondo X running track has four lanes that wrap around the ice and an eight-lane 110 meter sprint zone.  This track adheres to NCAA and IAAF standards and is one of the only indoor track facilities in Utah with a climate-controlled temperature of 63-65 degrees. Not only is the ice world-class, but the track is a wonderful amenity for runners.
Suspension Roof: Most stadiums/domes are held up by poles inside to keep the roof from collapsing. This is a great method, but the Olympic Oval did something different. Instead of having these supports inside, the Oval uses 12 suspension cables on either side of the roof to hold it up. Without support beams inside, fans do not have their view blocked, and the city was able to save a lot of money. I love the ingenuity, the economic savings, and the unique look these suspension cables have. I think other host cities should take a look at this cost-saving design if they have to build a speed skating facility.
Photo Credit: (Lux Catering & Events)
What I Want
More Events: While the arena is world-class, I wish that more high-profile events were held here. Unlike the Maverik Center, the Oval is small enough for great events that do not need 12,000+ seats. For having the world's fastest ice, more national youth or amateur hockey tournaments would be great for this venue. If US Speedskating can also continue expanding, I believe that their events will gain more popularity and the Oval's importance will grow. 
Better Access: Most stadiums and arenas on this list are very accessible by major freeways. This helps getting in and out to events easier. Unfortunately, the Oval does not have that luxury. The venue is in a great neighborhood, but traffic can be bad around it and getting to some of the closest major roadways takes time. If you are coming from outside or across the county, be prepared to take smaller roads through neighborhoods to get to this place.
Grade:
A
Helping to host Utah's greatest sporting event, holding many Olympic and word records, and headquartering one of the only U.S. Olympic teams outside of Colorado gives the Oval an A grade. If it had some more events and better access, this venue would rival some of the state's other top venues. Even then, this is still one of the prettiest and well-used sports arenas. 
Utah Motorsports Campus (Erda, UT)
Photo Credit: SnapLap
Overview: Since 2006, the Utah Motorsports Campus is a shining Western raceway that boasts 8,000 grandstand/track-side seats, and was the longest road racing facility in North America until 2014. The campus' history includes hosting road events like the Utah Grand Prix with the American Le Mans Series, Honda Summit of Speed AMA Superbike Championship double-header event, Discount Tire Sunchaser (a 9-hour endurance of the Rolex Sports Car Series), WERA Grand National Motorcycle Road Racing Series, Nitro World Games, Masters of the Mountains (regional road racing series), NASCAR Camping World West Series, FIM Superbike World Championship, Lucas Oil Off Road Racing Series, Tour of Utah Bike Race Time Trials, and National Auto Sports Association 6-Hour Endurance test. The campus also hosts non-race events like private karting on the track, the Night Lights Lantern Festival, and other family-friendly events.
What I Like
So Much to Do: If you are a racing fan, this is the place in Utah to be. The campus has multiple tracks for multiple events to be happening at the same time. The major, international-standard road course can operate in four configurations: the 4,486-mile Full Course, 3.05-mile Outer Course, and two 2.2-mile sub-courses (East and West) that can have things going all at once. Plus, there are four cafes, an event center, racing school, small racing museum, and grass areas for tents and trailers to camp on. Even if you are not a racing fan, the campus has guest experiences like none other including miniature motorcycle riding, outdoor go-karting on the track, and indoor archery tag, dodgeball, and Nerf Gun battles. 
So Much to See: For being the top racing facility in Utah, the campus has done a great job bringing in high profile events for all to enjoy. The very first time I attended was to see the Nitro World Games. Every area of the campus was covered in events, vendors, and spectacle. My friends and I could hardly catch everything because of how much there was to do. Even without the games, the campus is always bringing great racing and non-racing events for people to see. These events add huge injections to the local, rural economy and is a massive tourism draw for people to come to the area.
Photo Credit: MXP Magazine
So Many Places to Park: While this may seem trivial to some, parking is a big deal to consumers coming to a venue. The campus has access to massive amounts of open land, and it shows in their parking. When I went to the Nitro Games, I came a little late and thought that we would have to park very far away to get in. Luckily, we were able to get a great spot close to the venue because of how much parking they had. Unlike other venues, you will find great parking here in multiple lots even when thousands of people are on-site.
What I Want
Better Access: The campus has so many great things to offer, but they are all further to get to than other venues on this list. To get to the campus from downtown Salt Lake City, the drive is 40 minutes. Other areas along the Wasatch Front can be anywhere from a 45-85 minute drive. I understand that the area is perfect for the loud racing and track space, but I wish it was closer for more people to take advantage of its experiences.
Better Layout: I love how many different tracks the campus has. However, I took a long time trying to get my bearings when attending the Nitro World Games because of how much was going on. Since that was my first time on-site, I was confused on where everything was and how to see things. I never found the entrance to the grandstands area to watch the final races on the main track, and it took me about 15 minutes to find other races because it was hard to find the names of certain tracks. Because of this, I was overwhelmed. I wish that the campus had a better layout to make things easier to follow on where to go. (In the end, it may have been a Nitro World Games problem, but the map did not make sense when we arrived and nothing was clearly marked).
Better Seating: Even if I had found the entrance to the grandstands at the games, I would not have been able to get a seat. The only two stands open for the public/non-sponsors or VIPs that I could see were packed to the brim. They were only in one corner, and I could not see any others along the track. On looking at it from Google Maps, around 65% of area that is safe for seating around the track does not have any. If the campus wants to continue being a premier racing venue, I hope they include better seating around the track for more people to view the race at all angles.
Grade:
B+
The campus has a lot of offerings for racing and non-racing fans and I love what it does for the local economy. However, the campus is further away than other entertainment venues and needs better seating around the main track to enhance guest experience. I hope though that it can continue to draw big events in the future to help keep Utah a leader in racing world.
Rio Tinto Stadium (Sandy, UT)
Photo Credit: StructureFlex
Overview:  Opening in 2008, Rio Tinto is the home of Major League Soccer's Real Salt Lake and National Women's Soccer League's Utah Royals. The stadium has 20,123 seats and hosted other events like the National Championship for USA College Rugby, other MLS and NWSL matches, a Premier Lacross League tournament, and concerts with The Eagles, Paul McCartney, KISS, Journey, Neil Diamond, and Jason Aldean.
What I Like
Fan Atmosphere: My father and I attended our first RSL match last summer. While we are not avid soccer fans, the one thing we loved about the match was the atmosphere. I purposely bought our tickets in the Riot (RSL's main supporter groups) section where I knew the loudest active fans in the stadium were going to be...and they did not disappoint! From the drums, horns, tambourines, and singing, this fan section kept the match electric and was easily the best part of coming to the venue.
Field Proximity: What makes matches even more enjoyable are how close your seats are to the field of play. We were about halfway up in the supporters section, but I felt like we were still close to the grass and could see everything. No seat in the house seemed to have a bad view of the match.
RSL Plaza: Before the match, I was amazed at the plaza. Never before had I seen a permanent structure at a stadium specifically designed for pre-match entertainment. Sure, other venues may have parking lots where they set up tents for a festival-like atmosphere, but this plaza is a permanent structure. Along with great turf where sponsor booths and inflatables can be placed, the plaza has a roundabout for food trucks, a mini-soccer arena, soccer golf course, and a pavilion for private parties. The plaza is a wonderful pre-game feature that fans who do not have tickets to the match can also enjoy.
Photo Credit: Real Salt Lake
What I Want
Better Concessions: Whenever I go to a professional sporting match, I always plan on getting dinner/snacks at the stadium. For the first time ever, I never purchased any food when my dad and I went to Rio Tinto. The food options were very limited and unappealing. Plus, all the vendors were concentrated on the opposite side of the stadium where our seats were. If I had some good food to accompany the match, the atmosphere and experience would have been better.


More Non-Soccer Events: Since the stadium is one of the best outdoor venues in the state, I wish they had more regular events other than soccer. Bring back the concerts! Bring back lacrosse! Bring back rugby! Bring anything else back! The soccer match was fun to watch, but I would visit the stadium more for other things before soccer in a heartbeat. Maybe they will use it for an Olympic event if Salt Lake gets another winter bid (outdoor hockey match anyone?). Regardless, they should use the stadium more often for other non-soccer events.
Grade:
A
From the wonderful atmosphere, plaza, and seating, Rio Tinto is as good of a stadium as it gets in Utah. While I do wish there was better food and more events year round, I feel these are small complaints compared to the beauty and experience you can have while attending a match that you do not get at other venues. For this, the stadium deserves an A-grade.
Zions Bank Stadium (Herriman, UT)
Photo Credit:  Major League Rugby
Overview: Finished in 2018, Zions Bank Stadium is one of the newer Utah sports venues. Built in Herriman, UT near the mountains, this 5,000 seat stadium is home to the Real Monarchs of the United Soccer League, Utah Warriors of Major League Rugby, and Salt Lake Community College soccer matches. While still new, the stadium has hosted the NWSL's Challenge Cup matches, 2020's Premier Lacrosse League Championship Series, and the 2019 Women's High School Rugby Championship.
What I Like
Integrated Facilities: Zions Bank Stadium is not a stand alone 5,000 seat stadium, but one piece of a larger facility. Attached to the stadium are a public charter school, various practice fields, and an indoor facility that is the largest pre-engineered free-standing steel structure in North America. This facility contains two full length indoor soccer fields, a concessions area, bleachers, a weight room, and hockey like glass seating to watch the soccer matches. The high school feeds into Real Salt Lake's Academy to develop soccer players for the next level and has over 250 students. No other venue in Utah has all of these same facilities next to or in their stadium.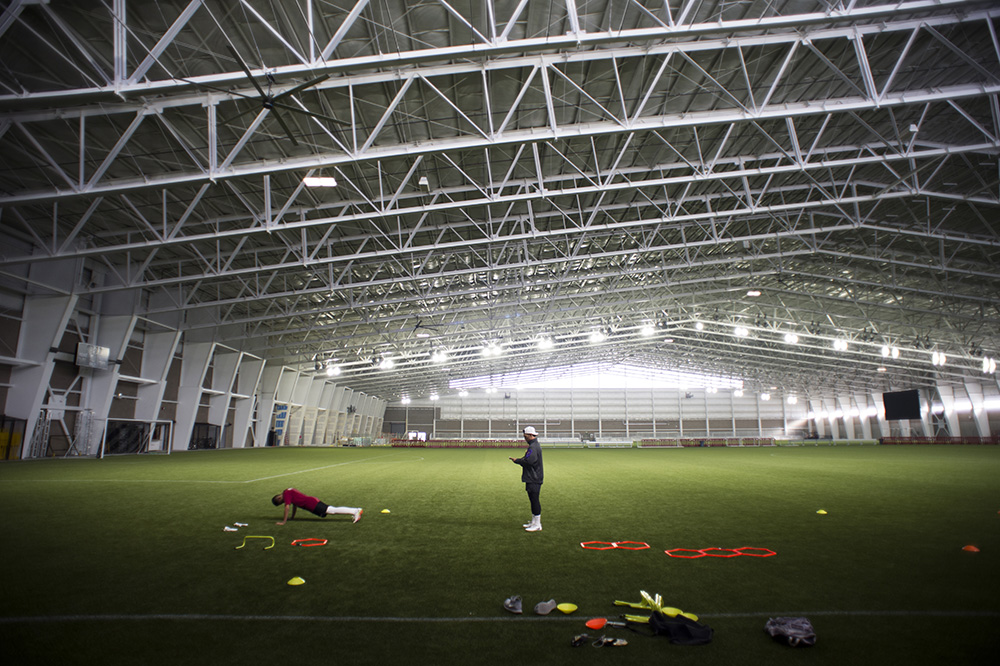 Photo Credit: Salt Lake Tribune
Great Atmosphere: You may not think a 5,000 seat stadium can produce a great atmosphere, but this one can. I attended a Utah Warriors home opener at the stadium when they were handing out cowbells as a promotional piece. Once the match started, it was loud and electric for such a small group. Any seat in the stadium is a good one which helped me to be more invested in the game even though I was on the top row. Everything made me feel more part of the stadium community rather than a faceless fan in a crowd of thousands.
Mountain View: Zions Bank Stadium has one of the best views of the Salt Lake Valley than any other venue in the state. You can see the beauty of the valley with the towering skyscrapers of Salt Lake City while also fully viewing the mountains. This view is especially beautiful during night matches.
What I Want
More Parking: This is one of the biggest issues with the venue. While everything else is great, the builders did not consider that 5,000 people attending means that there would need to be more parking. In talking with stadium operators, they said that the area only has paved parking to accommodate about 2,500 fans or half-capacity. Where do the rest go then for parking? A dirt lot about a quarter-mile down the road is used for overflow parking, but the lot gets too muddy when it rains. If the stadium is going to continue to host great events, they need to build more parking to accommodate bigger crowds.
Accessibility: The stadium is in a place not easy to get to from major freeways. Many venues that are further off a freeway can be accessed by following one road. To get to Zions Bank, you need to make a lot of turns on different roads to find it. One time, I had to explain the directions over the phone to a friend who did not have GPS capabilities; it was a nightmare. If explaining how to get there is so difficult then the stadium should have been built in a better area.
Food Options: This one is a little nit picky since I know it is a smaller stadium, but I wish the food options were more unique. The concessions stands do have generic hot dogs and nachos, and the Warriors matches have an excellent meat pie truck, but nothing is very special. I wish they could create something unique to the stadium like so many other sports venues have done.
Grade:
B+
Zions Bank Stadium is a great venue with wonderful facilities and a great atmosphere. While it offers so much for many different events and fans, the accessibility and parking is an issue for people wanting to come out. I am impressed with the high profile events they have hosted though in only two years of existence. Hats off to them for getting some major events even with some of these issues.
UCCU Ballpark (Orem, UT)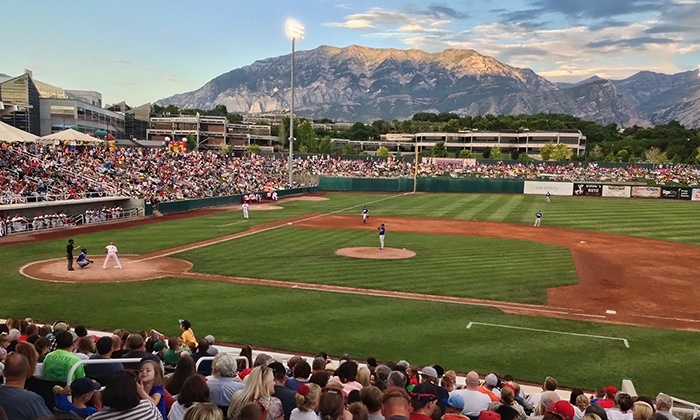 Photo Credit: Groupon
Overview: The ballpark opened in 2005 and has 5,000 seats. The field is home to the Orem Owlz of Minor League Baseball and Utah Valley University's baseball team.  
What I Like
Outfield Grass Seats: Grass seats are a big thing for me at minor league fields. I love how many of them allow for fans to come, set up a picnic, stretch out their legs, and enjoy a baseball game. As I said in my observations of Smith Ballpark in Salt Lake City, these types of seats help to bring a "summer feel" to the ballpark. At UCCU Ballpark, not only are the outfield seats on grass, but these seats extend up the third base line. I love this extension as it is a great way to get closer to the action by having cheaper tickets.
Photo Credit: Arnulfo Viramontes
Kids' Playground: If you have kids, you know that keeping them entertained for the duration of a sports game is hard. In the left corner of this ballpark, there is a full-fledged playground that kids can use before and during the game. While Smith's Ballpark's playground has obstructed views for parents trying to watch the game and their kids, this playground has no such obstructions allowing parents to comfortably watch both.
Freeway Accessibility: The ballpark is very easy to get to. College students studying all day just need to take a few steps from campus to watch a game. Others who are driving can reach the park with an exit just off the freeway. A free UVX public bus line can also cart fans from anywhere in Provo to come see games. 
What I Want
Parking Situation: The stadium is very accessible, but the parking is not as a great as it should be. The lots near the park are small, while the bigger ones are further away then necessary. If you do drive, just be prepared to talk a nice little walk to get to the stadium from the bigger lots when the small ones fill up.
Team Staying: While the ballpark is one of the better ones among the minor leagues, the Orem Owlz might not be around for much longer. Due to the 2019 MLB announcement that it will restructure its minor league system, the team may lose its affiliation with the Los Angeles Angels of Anaheim. Losing that affiliation would throw huge costs on the team which they may not be able to sustain. Seeing that this is one of the ballpark's main tenants and events through the summer, this would be a huge blow. I hope that they are able to continue to operate, so that this wonderful ballpark can still be utilized.
Grade:
B
The ballpark is beautiful, has great amenities, and is very accessible. Like Smith's, it is just another great ballpark that has similar features and nothing too special. With no other major events except the two teams (one is also in the air at this point), the ballpark serves its purpose. Nothing too special, but still a great place to catch a minor league or college game.
Conclusion
From a world-class Olympic Oval, to complexes with great integrated facilities, Utah has great sports venues to check out. Based on my personal opinion, I have given each stadium a grade. To refresh your memory, here are their grades in descending order below:
Olympic Oval (

A

)
Utah Motorsports Campus (

B+

)
Rio Tinto Stadium (

A

)
Zions Bank Stadium (

B+

)
UCCU Ballpark (

B

)
Whether they are inaccessible, or have great amenities, each stadium has a place in Utah sports history. If you need a new place to take the family, catch a game, or just admire a cool spot, I hope you are able to find a new place to check out.
Wondering what other stadium grades I have given so far? View my previous list where I looked at five venues in northern Utah.
Also, stay tuned for my new list where I grade six more venues from Provo to Southern Utah's border.